Rorke's Drift
Page added 22nd March 2016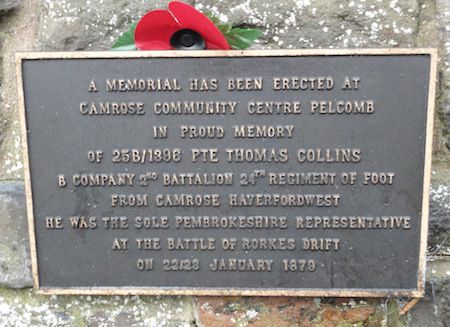 Plaque commemorating Rorke's Drift
The ever expanding British Empire had long been dabbling in Africa, but only after a variety of military engagements and Treaties with the Dutch did the Cape Colony become British in the early part of the 19th century.
A policy of expansion north and east, especially after the discovery of diamonds in 1867, led inevitably to arguments and clashes with both the residue of Dutch farmers, the Boers, and of course with the indigenous African tribes, most militaristic of these being the Zulus.
Excuses to invade Zululand were found in late 1878 and in December of that year the Zulu king Cetshwayo was given an ultimatum to disband his army of Zulu warriors.
His refusal was used as the convenient final straw and Lord Chelmsford set off on the 11th January 1879 with a force of 15,000 which he divided into three columns. On the 20th Chelmsford divided his centre column again and left 1,500 men in a camp at Isandlwana.
Two days later on the 22nd, this camp was attacked by 20,000 Zulus who inflicted the worst defeat on the British army by any native warrior force; almost all of the British and auxiliary troops were killed.
Later that same day about 4,000 of these same Zulus attacked the Mission Station at Rorke's Drift garrisoned by 122 men of B Company, 2nd Battalion, 24th Regiment of Foot, (two years later renamed The South Wales Borderers). A few dozen ancillary military personnel took the number of defenders up to 151.
Remarkably, throughout the ten hour battle that followed, the defenders were successful in repulsing the repeated Zulus attacks. Of the defenders, 17 were killed and 10 wounded. Zulu casualties are thought to have been over 500.
For their action, 11 Victoria Crosses were awarded, 7 to members of B Company, the most received by any one regiment in a single day. In addition, 4 Distinguished Conduct Medals were also awarded.
One of the most senior British Army generals of the time, Sir Garnet Wolseley (who took over from Chelmsford in South Africa) loudly proclaimed that VCs should not have been awarded to men who had no option other than to act as they did and whose bravery was displayed only through their attempts to stay alive. But this isn't an opinion generally accepted.
This action achieved worldwide fame through the 1964 film 'Zulu' starring Stanley Baker and Michael Caine. It remains tremendously popular but has in the past been criticised for romanticising and fictionalising parts of it and for attempting to paint B Company and the 24th Regiment of Foot as being almost wholly Welsh...which sadly it was not.
The consequences for the Zulus were unsurprisingly catastrophic. Huge reinforcements were sent to South Africa and the Zulu kingdom was eventually broken at the Battle of Ulundi on 4 July 1879.
Zulu king Cetshwayo was captured in August and brought to London where he was imprisoned in the Tower of London for three years before being allowed to return to Africa.
A less well known fact is that one of our own, a Pembrokeshire man from Camrose, was one of the defenders at Rorke's Drift. In 2008 a memorial stone to his memory was erected at the old Camrose School on the St David's Road. It reads as follows;
'In Proud Memory of 25B/1396 Private Thomas Collins B Company 2nd Battalion 24th Regiment Of Foot From Camrose Haverfordwest.

He was the sole Pembrokeshire representative at The Battle of Rorkes Drift on 22/23 January 1879 When 151 men defended the Mission Station against Over 4,000 Zulu warriors.

Private Collins later served in Malta, Burma and India And was invalided out of the army in June 1891.

Erected in his memory in May 2008
By Councillor Clive Collins
Chairman Pembrokeshire County Council'
The Collins family have more than a participant in the battle of Rorke's Drift to be proud of. A remarkable series of farm accounts dating between 1837 and 1843 have been preserved in The Pembrokeshire Archives and give a unique insight into life on Elliots Hill Farm in Camrose during the period leading up to the Rebecca Riots. My very good friend, Irene Long, now 96 years of age and who features in 'History in The Raw' (which has incidentally become a best seller) had the maiden name of Collins and was part of this family.