Henry Leach (1770-1848)
15th January 2016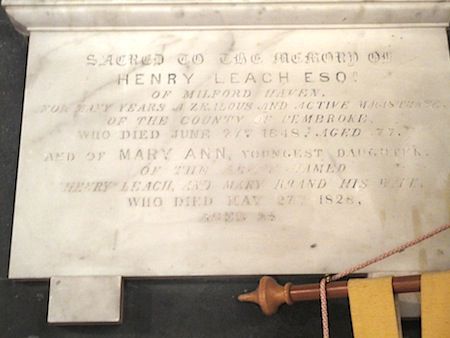 Memorial plaque to Henry Leach 1770-1848 displayed in St Thomas Church (now closed). Courtesy of St Thomas Church
I first came across Henry Leach whilst researching Haverfordwest Workhouse. As Chairman of the Board of Guardians he quite naturally figures quite prominently until his death in 1848.
Born to John and Mary Leach on Christmas Eve in 1770, Henry became part of a south Pembrokeshire family who were minor gentry engaged in farming. Henry's father died quite young and to help his mother Henry apprenticed into a merchant seafaring life on board a Bristol ship, hoping to move up through the ranks of officer positions. But by the time that Henry had served for a few years and successfully completed several trips to the West Indies, the French Revolutionary Wars had begun and were disrupting sea traffic.
In 1794, Henry was the Mate on board the ship 'Fame'. This ship had already encountered a French privateer on her previous trip and despite her tiny size of 289 tons, had manfully stood her ground for one and a half hours before escaping to Jamaica. But on this latest trip, the 'Fame' and her crew were not so lucky.
Taken by the French, Henry was incarcerated in a French prison, so overcrowded that some of the prisoners were moved to an open field despite it being winter. Along with four or five others, Henry escaped and managed to get almost 100 miles before being recaptured and returned to the prison in an open cart in freezing temperatures. But Henry was determined, desperate and escaped again, getting finally (with the help of a Quaker family operating out of Milford but who were at that time living in Dunkirk) to London in May 1795 and on to Pembrokeshire.
Henry's first action was to marry Mary Brand Jones. Mary, who was the daughter of Henry's first Bristol employer, happened to be visiting relatives in Pembrokeshire. He had proposed a few years before but her family had forbidden the marriage on the grounds that he was 'beneath' her. This time however, the marriage took place. Mary was descended from Sir Richard Walter, brother of Lucy Walter (still considered by some to have been the first, legal wife of Charles II whilst still Prince of Wales, the marriage to have taken place (so myth suggests) in St Thomas' Church in Haverfordwest in the 1640s).
Mary's considerable income meant that Henry no longer had to go to sea. They set up home halfway between Pembroke and Tenby but Henry had ambition to make something of himself within the county 'establishment' and applied successfully for the position of 'Collector of Customs' which required a move to Milford.
The Customs House, Milford Haven built in the 1790s. It is now Milford Haven museum and worth a visitThis is a large image with caption which moves to left with no text surround.
Smuggling of tobacco and brandy was rife and if not engaged in directing the activities of the revenue cutter Henry was kept busy administering the affairs of his wife's properties and land holdings. Despite this, he took on further responsibilities in 1809 and was appointed Commander of the Milford Volunteer Artillery in place of Charles Greville (the builder and founder of Milford Haven and early lover of Amy Lyon/Hart, later Lady Emma Hamilton). Further, in 1810, he was appointed agent for the Post Office Packets (small mail ships) which were having difficulties as the crews were threatening to form a 'combination' (early term for a union).
In 1821 George IV, returning from a visit to Ireland, was obliged to land in Milford due to storms at sea and continue his journey back to London by road. Henry met and assisted the king on to the quay from where he 'famously' made his way across the Old Bridge in Haverfordwest, where it is recorded in stone.
In 1833 Henry was made deputy Lieutenant and retired from the Revenues and Post Office positions, but was unable to lapse into retirement. He took the post of Chairman of the Board of Guardians of the Workhouse in 1840.
It is difficult to label Henry solely as the harsh task master who introduced the tread wheel to Haverfordwest prison (as Chairman of Magistrates), as letters he wrote in 1837 suggest him to have been remarkably sensitive to the hardship of others.
The entrance doors to Haverfordwest Workhouse for the sole use of the members of the Board of Guardians
The attitude and manner of Workhouses in the implementation of the Poor Law Amendment Act 1834 can only be viewed as having been an unimaginable horror story. But contrary to perceived expectation and belief, some of the Welsh institutions, Haverfordwest included, applied the legislation in a far less rigorous manner than they could have. The reasons were for financial benefit (to the county) rather than out of humane or altruistic attitudes. Nevertheless the effect was measurable. A leading figure in this was Henry Leach. Again and again, details in the minute books point to a man far removed from the image of an ogre that might be expected to rise up from any dusty tome bearing the title, 'Workhouse'.
Haverfordwest Workhouse where Leach was chairman of the Board of Guardians
In 1837 he wrote a pamphlet defending the Act in all its parts, which doesn't initially lead one to imagine him as a man of compassion, but then comes a segment in which he describes a journey to the north of England, by stagecoach, to view the method of the operation of Workhouses in the North.
Extracts from Letter 1
Taken from Henry Leach "Four letters on the subject of the new Poor Law", Swansea 1837
… We had proceeded thus far in our conversation, when we found the coach stop, and heard the coachman's voice vociferating, "Step out, old lady, the coach can't stop, do you see, for nobody."

We put down the glass, in order to see our new passenger, whose society the rough admonition of our coachman had led us to expect. The old woman who was the object of the coachman's address, had felt all its force and was hastening towards the coach; on one side was a little boy dressed in sailor's clothes, quite new – it was an ill made suit which he had evidently put on for the first time. On the other side of the mother, whose anxious countenance sufficiently indicated the relationship, was seen a little girl. The boy appeared to be about twelve years of age, the girl might have been a year older. The old woman struggled, but her efforts were in vain to hide her emotions. The little girl wept aloud while she kissed and embraced her brother. The little fellow tried to look the man, but it would not do; the tears ran down his cheeks.

"My darling," said the mother, "the coach cannot stop." "Yes we can though," said the coachman, "don't hurry mother, I will make up the time."

But the mother had acquired firmness – she helped the boy to ascend the coach, and with one last embrace, but it was the embrace of a parent, she bade him be a good boy, and God would bless him. We took the little fellow inside, for the rain fell fast, and the coach went on. We all seemed wrapped in meditation, nobody was inclined to talk, and the silence was only broken by the sobs which our little companion could not suppress, and which afforded relief to his heaving heart. …

…. We now joined in turning all our attention to comfort and cheer up the spirits of our little friend. The coach stopped for the passengers to dine; we made him sit down as our guest, and this kind treatment so much revived his spirits as to induce him, when we proceeded on our journey, to gratify, not the idle curiosity, but the intense interest we felt to know his humble history. His mother rented a few fields, upon which she kept four cows. There were five children, four of whom were daughters, and all gone to service, but the youngest, whom we saw; "and she must go soon," said he, "and then my poor mother" – but here his heart began to bleed, and we were obliged to go with another part of the picture.

He informed us that he was going to Liverpool, to be bound to a Captain who traded in Africa, and remained sometimes two or three years upon the coast collecting goods which were sent home in other ships, and that he was to be bound to this captain for seven years; but that he was cheered with the thought of that, as his father was a seaman in a man- of- war upon the coast of Africa, he might probably meet with him.

"You have a father then," said I, "has he been long absent from you?" He proceeded to inform us that his father had only visited home once for several years, that he had accompanied Capt. Parry in his voyages to the cold country, which his father told them was always covered with snow, and night for six months; that when those voyages were ended, his father wished to stay in a ship to serve the king, who would give him a little pension when he got old and unable to work; so he was put into another ship-of-war that went to the coast of Africa, where they say there is never any snow, but the sun is so hot that the people are all black; that he sent home a part of his wages every month which went to pay the rent; but of late the gentleman, "who used to pay my mother was ordered to stop it. My mother said she was down-hearted at this, but she hoped it would come again; so she trusted in God, and tried to keep up her spirits."

I knew well whence came the order to stop the allotment of wages; he had now no father. Alas! Poor boy thought I, thou art indeed the only son of thy mother, and she is a widow, and thou art cruelly separated from her, perhaps for ever, perhaps to become another victim to the pestilential climate which has already made thee fatherless; would that I were rich enough to take thee back and restore thee to thy widowed mother, that thou mightest support and comfort her now that she has none to protect her. Alas! this gratification is denied me, and I have nothing left but to supplicate the being who tempers the wind to the shorn lamb, who provideth for the Ravens and suffers not a hair of our head to drop but by his permission, that he will, amidst the noxious swamps and burning clime of Africa, protect thy tender youth, or when, in the winter's storm, upon the high and giddy mast will care for thee, and guard the poor ship-boy in an hour so rude.

We arrived at the end of our journey. I bade adieu to the little boy and hastened away to the Inn. I tried to think of something else, but it was in vain, the scene I had witnessed, and the story I had heard, obtruded themselves upon every picture my mind sought to draw; but I felt my mind considerably relieved when I had arranged a plan which I hoped would enable me to watch over the fate of the child who had so deeply interested me, and perhaps by means more powerful than my own be hereafter enabled to befriend him.

I rose early in the morning – the sun shone bright to every eye; but the recollection of yesterday's scene hung heavy upon me, and I hastened in search of the little boy, whom I found upon the point of embarking in the boat in which the Captain was going to board. His countenance lighted up as he saw and ran towards me, but my own sunk with dismay as I looked on the stern visage of the Captain, and heard him pour forth a volley of oaths to quicken the boy's departure. An instinctive horror seemed to seize the little fellow, and he held me fast with a convulsive grasp.

This was too much and I besought this Dirk Hatterick (The Captain) to let me have the boy, and I would take care of him; but I was soon reminded with another volley of oaths, that he was bound an apprentice for seven years, and that it only remained for me to bid a last adieu to the poor little boy. I stood upon the beach till the boat had reached the ship, and then returned vexed and dispirited. I recollected that similar scenes were occurring in real life every day, and almost every hour, and that it is a condition of the state of civilised society in which we live; but the poignancy of the feeling was not mitigated by the knowledge of that fact.