Agincourt
15th January 2016
In 1415 the battle of Agincourt was fought. It has come to represent one of the heritage events in the history of this country along with Trafalgar and Waterloo. The date of the 25th October is St Crispin's Day, patron saint of leather workers, who was one of two men (the other was St Crispinian) tortured and executed by the Romans on that day in the 3rd century and later canonised.
Despite the remarkable patriotic feeling when remembering Agincourt, largely due to Shakespeare, Henry was an extremely cruel man even by the standards of the time. His war with France was a resumption of the 100 years war on the excuse that the French had helped Owen Glyndwr, last hope of the Welsh. In 1405, French forces had landed in Milford Haven and marched through Pembrokeshire, burning Haverfordwest on the way. By the time of his accession in 1413, the Welsh had been defeated but Henry wanted to advance the English claim, through Edward III, to the French throne. He landed at Harfleur in mid August 1415 but took five weeks to capture the port. By then Henry's force was racked with disease and as October approached, the usual practice would have been to retire for the winter before launching major campaigns. But Henry was determined to go home with something worth having undertaken such an expensive adventure. He marched north, crossed the river Somme (to become so famous exactly five hundred years later) and finally came face to face with a huge French army thirty miles south of Calais.
Henry's force, outnumbered by as many as four to one (possibly 22,000 to 6,000) and in addition weak, hungry, with many of them ill, set up a strong defensive position which the French were unwilling to attack. After three hours of initial stalemate with even more French flocking to the battlefield area, Henry took a gamble and advanced his position by several hundred yards to take his 5,000 archers within bow shot of the French. The French cavalry attacked in heavy mud, took huge casualties with wounded horses making the ground worse, and as they retreated in chaos caused serious damage to the infantry who had been advancing behind them. Further attacks by the French were so tightly packed in the narrow battlefield, hemmed in by forest on both sides, that they fell over fallen men and had little room to wield their weapons.
The fighting lasted three hours with Henry, at times, in the thick of it. Thousands of French were killed and thousands captured. On thinking that a further attack might be launched, Henry had all of those captured killed. The immense victory saw Henry return home a hero. In time, he was recognised as heir to the French throne and married Catherine of Valois, daughter of the French king.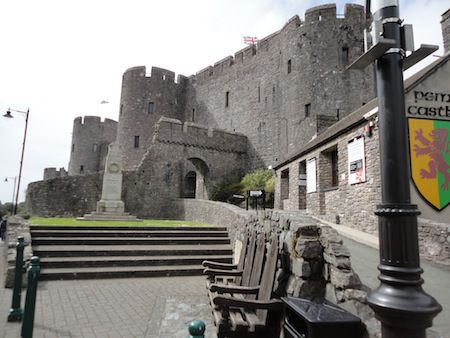 Pembroke Castle, birth place of Henry VII, grandson of Owen Tudor
So, what has Agincourt to do with Pembrokeshire? Well, on Henry's early death in 1422 aged 35, Catherine, his widow married Owen Tudor. Their offspring included Edmund Tudor, father of Henry VII, born at Pembroke Castle. In addition, chroniclers of the time advised that Welsh bowmen had been recruited from every county, so no doubt Pembrokeshire archers were present. On a personal level, my mother's family name of Gambold was thought for quite a long time to have stemmed from Sir Davy Gam, nicknamed 'The Bold', who was knighted on the battlefield as he lay dying after intervening to save Henry. Whilst revelling in that tale as a child, I have to confess that it is largely discounted now; hey ho, have to find some other tenuous link to another medieval hero.
The Agincourt speech from Henry V is worth remembering;
...We few, we happy few, we band of brothers; 
    For he to-day that sheds his blood with me 
    Shall be my brother; be he ne'er so vile, 
    This day shall gentle his condition; 
    And gentlemen in England now-a-bed 
    Shall think themselves accurs'd they were not here, 
    And hold their manhoods cheap whiles any speaks 
    That fought with us upon Saint Crispin's day.
The 25th is also the anniversary of the Battle of Balaclava (1854) when 'the noble six hundred', were led by the utterly incompetent Earl of Cardigan in the Charge of the Light Brigade.